What if I write about my Japanese inspired school uniform outfits today? Guys who don't like Japan and girls in school uniform what's wrong with you? , I'm sorry, I didn't want to hurt you with this post ;(
Soo.. There are dozens of subcultures in Japan and all of them are so special and like "did-you-see-that-?!" and and and stop me or, otherwise, I'll write about all of them and ruin my post about school uniform and I don't want it to be ruined.
Anyway, this is my Mum (on the left) and her sense of taste (on the right):
Actually, she has a great sense of taste, I just found an awkward picture.
Now meet Chiyaki Kuriyama playing GoGo in "Kill Bill". She is cool. She's also wearing school uniform.
And this is Makoto from "The girl who leapt through time". She is one of the ~30 characters who influenced my personality a lot and also my sense of fashion.
What I'm trying to say is that these two persons inspired me to wear skirts and stockings to school. At the age of 14 I already quited wearing red trews with funny T-shirts every day and at the age of 15 I reviewed the priorities one more time and did already learn every aspect of the real j-uniform set. So, now I still wear uniform (actually, it has transformed into something really weird so far), even though it is no longer compulsory.
Hello again (I wonder, if I say hello to you every time I'll post a photo with my face on it?).
The sailor coat is the first gift Boyfriend gave to me during the autumn '11 holidays. It also was the first BIG REAL JAPANESE thing in my wardrobe and still is my favorite.
When I came to Japan for the first time to visit Boyfriend, he took me to the Phantasien store where I lost my head completely and began to cry silently about all the bow ties, skirts, shirts and jackets which I couldn't afford.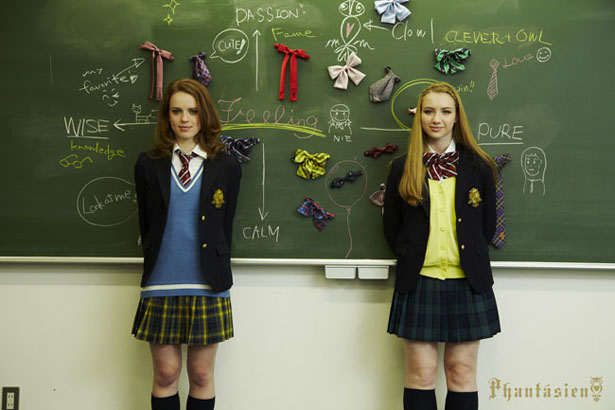 However, Boyfriend decided to buy me some stuff yay Iwassoexcited!
Now I'm the lucky owner of the two Phantasien red bow ties. The school shoes with the stickers-from-my-box on them are from RiverIsland and the Japanese saddle shoes (kind of) are also Boyfriend's gift.
When you feel like drowning yourself in the bath or whatever, try to combine school shoes with funny socks instead, it'll help a little. For example, this photo of me wearing panda socks was taken at the funeral in the day when everything sucked, and look, I'm still alive (oh great, now I'm getting depressed again).
In fact, before my first trip to Japan where Boyfriend encouraged me to try saddle shoes, that were supposed to make a look more authentic, I've worn only

gumshoes (wich are actually called sneakers, but I find this g-name funny.. you know.. gum.. forget it).
Topshop/ Pull and Bear. The darker pair reminds me of Coraline. "A little me? That's weird."
My second favorite item (you didn't forget that red sailor coat which takes the cake, did you?) is the blue eyeball skirt which I excitedly bought for 15 000
¥ omg what have I done
what have I done
?! Now I just can't let it get
all dusty in the closet, so I try to combine it with the things from my school uniform sets, because MORE BONES! MORE EYEBALLS! hoowee emotions.
I would have feel guilty that I ruined your cheery photo if it were not you who got me into this

.